In the Argentine province of Entre Ríos, pumpkin and squash litter the landscape regardless of the season. They're packed into large crates of roadside vegetable stands and climb the fences of home gardens. Entrerrianos love to grill year round and this flame roasting pumpkin is the perfect way to add complex smokey flavor to the ingredient's natural sweetness. Earthy pecans provide a nutty crunch, while Jorgelina Mandarina's riff on salsa criolla—a staple at any Argentine home asado or barbecue stand—adds freshness and peppery heat. 
Find dried aji amarillo—a slightly sweet and fruity Peruvian chile with medium heat—at your local Latin grocery store, or online from Kalustyans. If the dried version is unavailable, jarred ají amarillo paste is also widely available in many Latin markets and makes an acceptable substitute.
Featured in: "The Pescatarian Asado: Reframing Argentina's Native Bounty."
Fire-Roasted Pumpkin with Pecans, Honey, and Jalapeño Dressing
Roasting wedges of sweet pumpkin directly in the fire results in a smoky and dramatic side dish, while a classic Argentine asado condiment adds freshness and peppery heat.
Yield: serves 4
Time:

1 hour, 15 minutes
For the salad:
One 18-oz. thick-skinned pumpkin (such as plomo, fairytale, queensland, or jarrahdale) stem and seed removed, sliced lengthwise into 4-inch wedges.
3 tbsp. coarsely chopped pecans
1⁄4 cup coarsely chopped Italian parsley
For the dressing:
1 dried ají amarillo
1 tbsp. honey
1 tsp. extra-virgin olive oil
3 whole black peppercorns
1⁄2 tsp. fine sea salt
1⁄4 cup fresh orange juice
For the salsa criolla:
4 medium red radishes, coarsely chopped
1 small red bell pepper, coarsely chopped
1 red jalapeño, stemmed, seeded, deveined, and coarsely chopped
3 tbsp. fresh lemon juice
Fine sea salt
Instructions
Roast the squash: Build a wood fire in a grill or fireplace, then place the pumpkin wedges, directly in the coals. Cook, rotating occasionally, to evenly char the outer surface , about 10 minutes. Once the wedges are almost completely blackened, position them skin-side down in the coals and continue cooking until the skin is charred and hardened and you can easily insert a knife into the flesh with no resistance, about30 minutes. Using tongs, transfer the squash to a large baking sheet and set aside to cool.
Meanwhile, make the dressing: Bring a small pot of water to a boil. In a small dry skillet over medium heat, toast the ají amarillo until aromatic, flipping frequently to avoid burning, about 2 minutes. Transfer the toasted chile to the boiling water and cook until rehydrated and pliable, about 10 minutes. Drain, discarding the cooking liquid. Remove and discard the stem, seeds, veins and any loose outer skin, then transfer to a mortar and pestle; add the honey, olive oil, pepper, and salt, then grind to a fine paste. Stir in the orange juice and set aside.
Once the pumpkin is cool enough to handle, use a paring knife to scrape off and discard the blackened crust on the surface of the flesh. Using a fork, gently fluff the flesh, then use the paring knife to make a series of cuts across the flesh, leaving the skin intact and leaving about 1-inch between each incision.
Prepare the criolla: To a small bowl, add the radishes, bell pepper, jalapeño, and lemon juice. Season to taste with salt and toss to combine.. To serve, arrange the squash wedges on a platter and sprinkle the salsa criolla across the top. Garnish with the pecans and parsley, then pour the reserved dressing over the squash, making sure to pour into the cuts. Serve warm or at room temperature.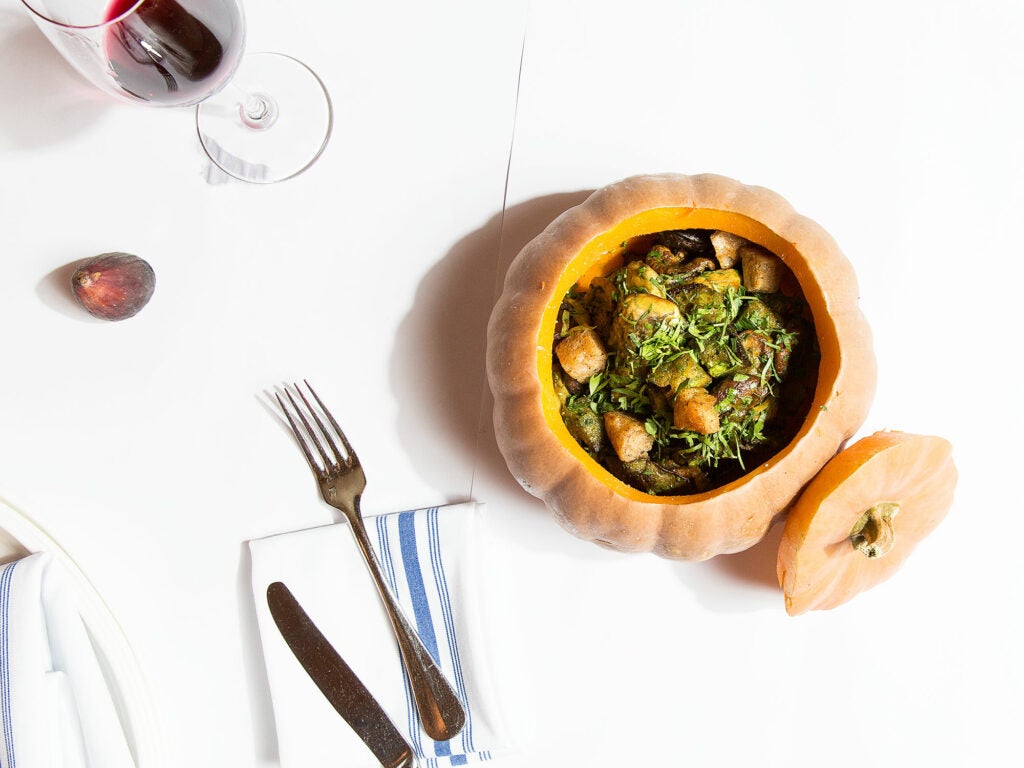 Squash is as savory as it is sweet. Use it in these creamy soups, sweet dumplings, and meat roasts »