Cozy Classic Comfort Food Beef Stew in Slow Cooker
Beef Stew in Slow Cooker on a cold day is hard to beat! This delicious comfort food from the Fix It Fast, Fix It Slow chapter of Guy's Guide to Eating Well cookbook is a family favorite. Hearty and satisfying this simple to make meal practically cooks itself in the crock pot! The Beef Stew recipe calls for 10 cups total of 5 different veggies but you can use any combination of your favorite vegetables to make this delicious dish your own. Serve over couscous or rice (brown rice for extra nutrition & fiber) to soak up all of the super sauce!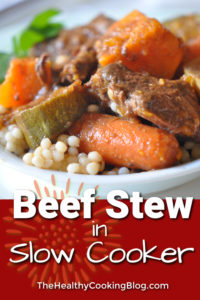 Simple beef stew becomes quick favorite with secret ingredient of barbecue sauce combined with meat and lots of vegetables. I like to serve over couscous or rice to soak up all the super sauce.
Servings
8
(1-cup) servings



1 1/2

pounds





beef stew meat




2/3

cup





sweet barbecue sauce




1 1/2

teaspoons





paprika




2

cups





butternut squash chunks




2

cups





peeled sweet potato chunks




2

cups





baby carrots




2

cups





thickly sliced zucchini




2

cups





thickly sliced yellow squash




1/2

cup





water




2

cups





baby carrots




2

cups





thickly sliced zucchini




2

cups





thickly sliced yellow squash




1/2

cup





water
In 3 ½-6-quart slow cooker, add all ingredients. Cook on HIGH 5-6 hours or until meat is tender.
Calories 231, Calories from Fat 25%, Fat 6 g, Saturated Fat 2 g, Cholesterol 53 mg, Sodium 211 mg, Carbohydrates 24 g, Dietary Fiber 3 g, Total Sugars 13 g, Protein 18 g, Diabetic Exchanges: 1 vegetable, 1 starch, ½ other carbohydrate, 2 ½ lean meat
Terrific Tip: Use any combination of the 10 cups of vegetables
Stock Your Kitchen for Crock Pot Cooking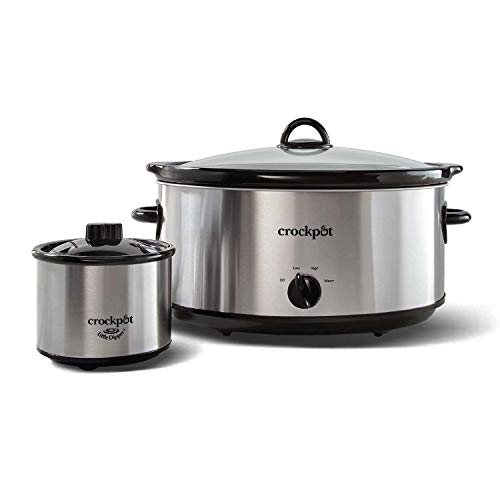 Crock-Pot 8 Quart Manual Slow Cooker with 16 Oz Little Dipper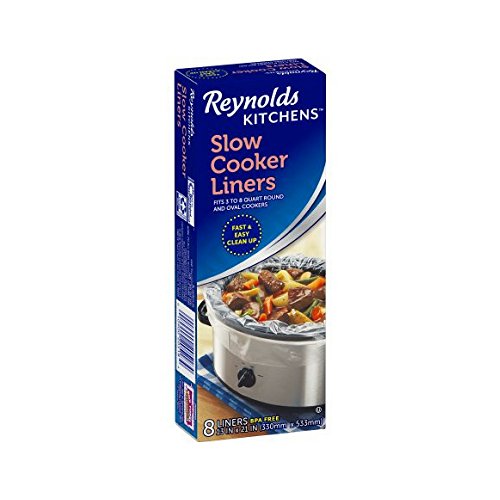 Reynolds Kitchens Slow Cooker Liners 8 ct Box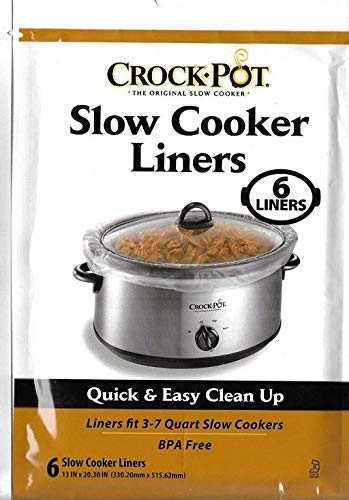 Crock Pot Liners, 30 Liners fit 3-7 Quart (5 packs of 6 count)

Cookbook Full of Good For You Meals Made Simple & Delicious!
Beef Stew in Slow Cooker is from Holly's easy men's cookbook – full of deliciously easy quick fix meals and crock pot cooking recipes. You won't believe how delicious this diabetic friendly, gluten-free and freezer friendly meal is! It is easier to eat good-for-you foods in simple go-to preparation methods.
Holly included men's favorite recipes but made them healthier.  This book is a great resource of information as this chapter gives you the foods to fight inflammation. Plus, this cookbook entices men in the kitchen. Team Holly aims to make all meals deliciously healthy!
Get All of Holly's Healthy Easy Cookbooks
The post Beef Stew in Slow Cooker Classic Easy Healthy Comfort Food appeared first on The Healthy Cooking Blog.